Rock & Roll &
Hearing Her Pain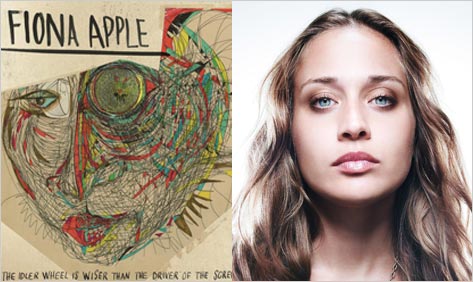 As the synthesizer displaced the electric guitar over the past two decades, there was a parallel development in acoustic music: the folkie ingenue strumming nylon strings gave way to the pop polymath tickling ivorine keys. All in their early thirties, the four major successes in a line traceable to Laura Nyro are Regina Spektor, Nellie McKay, Norah Jones, and Fiona Apple. The first two are obviously minor leaguers compared to Jones and her megaplatinum 2002 Come Away with Me or topic-at-hand Apple, who released the most acclaimed album of 2012 in June. But all are songful New York--identified originals with a fan base, and only McKay, whose 2010 Home Sweet Mobile Home gestured futilely at middlebrow convention after four quirky-to-kooky keepers, is without a current release. Apple and McKay have Broadway roots, the Russian-born Spektor was a classical prodigy, and Jones studied jazz piano in college. None has more than a peripheral relationship to rock and roll as it's normally conceived, and only Jones, whose fondness for country music surfaced with a spooky Hank Williams cover back when, has shown any interest in all the folkish musics on life support gathered under the rubric of Americana.
Ragtime piano did as much to transform 20th-century pop as blues guitar, but the piano these women care about is the one in the parlor rather than the barrelhouse, its discipline harmonic rather than rhythmic. Hence they often come up short on groove even when they hire out their production, as Spektor and Apple have, to Dr. Dre graduate Mike Elizondo. The upside is their melodic facility. In an era when the indelible tune is the province of R&B hit-paraders, Nashville neo-to-pseudo-traditionalists, and old-timers who trust the mettle of blues-based forms that will never dominate pop again, all these piano players have shown a knack for writing songs that are pleasurable up front and intelligent long term. And though I've never been a parlor kind of guy, they've enriched my life as a listener and a critic.
Granted, I find Jones too subtle even if or because she's the nicest person ever to go double-decaplatinum, and after half a dozen tries can neither confirm nor deny credible rumors that her quiet . . . Little Broken Hearts vents the anger to which I'm sure she's entitled. Although McKay is an animal rights crank, which is to say not my type, she's also a stand-up comedian, which is to say bésame mucho--a spunky, sprightly eccentric who has a history of stirring things up just because she can. Although spunky and sprightly right up to her new What We Saw from the Cheap Seats, Spektor is such a committed humanist that should her pop career flounder you can imagine her touring senior residences, where the ones about returning the oldie's wallet and masterpieces imprisoned in their own timelessness would win her a quick callback. Which leaves us with our topic at hand, who is certainly the most brilliant of these very talented women and almost as certainly the hardest to like.
This is not to suggest she's hard to fall in love with. Fiona Apple has had femme fatale written all over her since she debuted in 1996 at 18 with the determinedly bathetic Tidal, which--in a now-vanished record-biz epoch still brimming with dreams of precious metal and aesthetically complicated celebrity--went triple platinum behind a Grammy-winning single about doing a good man wrong and a video featuring the teenager in her underwear. Having beaten her three competitors to the post by five years, however, Apple has since been outdistanced by all of them: The Idler Wheel (we'll get to the full title later) is only her fourth album, and comes seven years after Extraordinary Machine. How this could be is indicated by the recording history of Extraordinary Machine, in which--with the aforementioned epoch on its last legs--Apple rejected the orchestrated iteration produced by the estimable Jon Brion and insisted on re-recording with the estimable Elizondo. Some prefer one version, some the other; they're different, sure, but since this is her shapeliest set of songs either way, few find the differential as stark as Apple does. She's a diva, a perfectionist, a pain in the ass. And this determines the kind of respect she gets--as a musician, and as a star in whom listeners invest their fantasies and ambitions.
The music is why we're here. Vocally Apple has more size and texture and character and drama than her fellow piano women. Her melodies and arrangements are always forceful and never predictable. The fascination she exerts, however, extends well beyond these aesthetic niceties and doesn't necessarily begin with them. Post-MTV, you'd figure all these women must work harder at their looks than Laura Nyro. But where the blonde McKay and brunette Jones are prom-queen pretty and the curly-headed Spektor retains some homegirl, Apple has always been an exotic, her enormous eyes depthless and her oval face evolving from knowing gamine to sultry analysand as the years piled on their pain. For her many female admirers, her beauty is presumably ancillary--when Jessica Hopper calls Apple "the martyr-saint, crucifying herself so that we might live drama-free," she's praising a soul sister who exposes sides of herself Hopper herself has chosen not to indulge. With men, however, the attraction has often seemed more fraught--imbued with a sexually charged preference for intensity over reliability, sparked by the kind of let-me-take-you-away-from-all-this fantasy men know in their hearts is doomed and secretly prefer that way. One achievement of The Idler Wheel is that it's quashed such fantasies. No longer is she seen as a tortured beauty. In 2012 she's strictly a tortured artist.
This is progress, no doubt about it. But I don't know how an emotionally engaged male heterosexual Fiona fan could have conceptualized her any way but romantically. There are 33 songs total on Tidal, the 2001 album with the 90-word title known as When the Pawn, and the two versions of Extraordinary Machine. Tidal's typically disconsolate "Sullen Girl" ponders depression per se, Extraordinary Machine's startlingly cheerful "Waltz" begins "If you don't have a song to sing / You're OK," and every one of the 31 others obsesses on disconnects with men. For her first decade, then, Apple's "crippling doubt" and "mirror-upon-mirror confessionalism," "her pains, her insecurities," "her neuroses," her "icky little feelings," "her emotions . . . too messy for the relatively staid language of most pop music"--to cherry-pick The Idler Wheel's raft of raves--all had the secret word "romantic" attached. She spent three albums elaborating her own dialect of pop music's lingua franca. In principle, love songs are OK with me, although I prefer a broader emotional palette than Apple's and have often noted that happy ones are harder to get right. But there are other things to write about, and I don't just mean partying hearty and returning people's wallets. Friendship, for instance. Mortality. Your mother. God and so forth. The pit bull you took in off the street. The little club you play occasionally. Hell, even art as such. You can have messy emotions about any of these things.
That the three albums share a lingua franca doesn't mean they're interchangeable. The bestselling Tidal is sodden juvenilia by me, When the Pawn deep and dark and palpably disturbed, Extraordinary Machine a stab at sociable sanity--Elizondo was clearly brought in to smooth out the songs, not hype up the beats. And on The Idler Wheel Apple has definitely gotten on top of her disconnects--verbally, anyway. She spends less time blaming the guy or lacerating herself. The "companion" of the lead "Every Single Night" is explicitly her own "brain" even if that companion percolates heat in her belly, and "Daredevil" right after looks askance at her own risk-taking. But "Daredevil" also addresses a presumably male other, and so it goes once again: every song after the first is about love lost, failed, or otherwise flawed. Midway through comes the oft-quoted theme statement "How can I ask anyone to love me / When all I do is beg to be left alone," and I can just imagine horny fantasists thinking, If she's going to put it that way, maybe I really should settle for Jennifer down the hall. It's a game-changing line with several parallels on The Idler Wheel, which is longer on the kindness and self-knowledge barely glimpsed in Apple's younger songs: "Valentine" with its "I root for you"; "Jonathan" with its "I like watching you live"; "Werewolf," where she admits flaunting the scent of blood; "Anything We Want," where she imagines a future consummation. Also noteworthy is a finale called "Hot Knife." Many have observed that the entire song is a crude, eccentric sexual metaphor. No one has indicated when Apple has been so pro-sex before, because she hasn't.
My close readings constitute a scoop of sorts--the huzzahs for Apple's "self-conscious self-absorption and gritty self-loathing" rarely mention countervailing tendencies. One reason is probably that, however much Apple's tortured image is valued for enhancing her blessed artistic integrity, nobody truly believes she's much of a lyricist. That full title: The Idler Wheel Is Wiser than the Driver of the Screw and Whipping Cords Will Serve You More than Ropes Will Ever Do. To find out what an idler wheel is, read some other review, or Google it. I'll merely point out that "the driver of the screw" is otherwise known as a screwdriver and that most English speakers would just say "ropes ever will." Only then it wouldn't scan, or rhyme, that stuff. Apple does this sort of thing a lot--horrible lines like "Adagio breezes fill my skin with sudden red" or "Whose reality I knew, was a hopeless to be had" or "And last night's phrases / Sick with lack of basis." The Idler Wheel improves on this tendency. Because silly is good, I even kind of like the "orotund mutt" / "moribund slut" rhyme others mock, although not the "white doves' feathers"-"hot piss" metaphor others find scintillating--much less its next line: "Every time you address me." ("Address"? Really? Who talks like that?) But remember-lyrics aren't why we're here. Music is.
This is not a hooky album. Even compared to the earlier work it's not a hooky album. If like me you're skeptical about Fiona Apple in particular and pop avant-gardism in general, you could play it four or five times without hearing a single song whole. If you're like me, however, by then you'd admire producer-drummer Charley Drayton's junkyard percussion, which colors this music more decisively than Apple's piano, which is deployed sonically and rhythmically, including several boogie-woogie figures. And soon thereafter, if you're like me, the whole thing will come together in a whoosh--the kind of formally risky pop that, when it happens to work, provides pleasures almost as bracing and enduring as "Over the Rainbow," "She Loves You," or "I Want It That Way."
Because it's jagged on top and melodically facile deep underneath, the music too discourages vicarious romanticism. It impels any interested bystander to hear Fiona Apple as a tortured artist rather than somebody to love. Yet as a pop polymath whose artistic integrity is working hidden variations on teen ballad and Broadway heartsong, maybe she's finally become so accomplished that she's less tortured than she and everyone else thinks--on her way to more lovable, even. No matter how much she begs to be left alone, maybe the respect she's clearly earned means she deserves what she also can't stop begging for, else she'd be writing songs about God and her pit bull. I mean somebody to love. Just not anyone I know, please. Because speculate as we might, one thing is certain: Fiona Apple is always going to be a pain in the ass.