Expert Witness
Kansas City Lightning
KANSAS CITY LIGHTNING
The Life and Times of Charlie Parker
By Stanley Crouch
It Books, 2013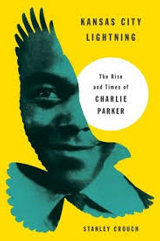 I edited Stanley Crouch at The Village Voice for most of the '80s and count him a friend today, but that doesn't mean I like, much less agree with, everything he writes. He's a rap-hater, and although it's dumb to dismiss him as a neocon--his politics are deeper than that by far--he's certainly well to my right. So when I was asked to blurb his Kansas City Lightning: The Rise and Times of Charlie Parker, I didn't know what to expect. This book has been in the works for so long--30 years, as I recall--that it was a pleasant surprise to learn that after many years of rumors it had surfaced at all. On the other hand, there was no way to be sure in advance what it would be. So I made my usual excuses--not only don't I blurb on spec, I don't have the time to read on spec, and regularly glance at galleys I put aside after a few pages, plus I'm writing a book of my own in my "spare time." But this one I finished with considerable gusto.
For the record--I'm writing this post the day after I finished but will only publish it when the book is available, and one never knows in advance what will be excerpted--the blurb I wrote read as follows: "Kansas City Lightning portrays a young genius named Charlie Parker inhabiting the culture that made his genius possible. Parker himself is both scrupulously documented and vividly novelistic, while the surrounding social history and character sketches culminate the love letter to American Negritude the author has been writing all his life. Crouch Lives!" Then there was another sentence I decided to delete because my in-house editor thought people might take it the wrong way: "Stanley's fans have been waiting so long for this book that there seemed no way it could live up to our expectations, and it doesn't. It's too damn original for that." But in this context I'm free to expatiate.
First of all, this is part one of what is now projected as a two-part biography, and doesn't get to bebop at all. There's a vivid section about Parker's 1938-39 sojourn in New York, before he returned to Kansas City for his nightcatting father's funeral and decided to stay, as well as a 30-page lead-in describing his triumphant return with the Jay McShann Orchestra in 1942. But the 13 years of musical shape-shifting and junkie squalor that are why Parker is a legend--described in many books, none of which I've ever gotten to--will have to wait for volume two, should it please the Lord that it appear. As I pray it does.
It could and probably will be said that there's not enough Parker in this book. In fact, I'll say it myself--for the middle hundred pages of this 334-page portrait of the artist as a young man, its ostensible subject is a little too much a side issue. But I find it hard to argue with what they comprise instead, namely, the love letter of my blurb: Crouch's detailed description of and tribute to American Negro culture from emancipation to the swing era (and yes, Crouch--who I guess I should specify is of predominantly African heritage himself--is so dismayed by the niceties of the Black Studies era that he prefers the term "Negro"). They're full of character sketches--especially but by no means exclusively of musicians--and a lot of highly unacademic sociology, rich in texture, detail, and idiosyncrasy. As always, Crouch savors the high and the low, the organic and the technological, the African and the European. He moralizes plenty--it's my guess, based on no inside info whatsoever, that one reason Crouch found this book such a challenge is the inherent contradiction of lionizing a heroin addict so influential he helped spawn thousands of others--without minimizing the criminality and deviltry of the jazz world. He's so proud of this culture in all its human complexity the buttons are popping off his shirt, which with Stanley is always a danger anyway. And he chooses his words with a loving care he doesn't always make time for in his journalism.
As for Charlie Parker himself, he's here. On the one hand, he's a spoiled mama's boy many friends and acquaintances describe as having an aloof unknowability about him. But as Crouch makes clear, a major reason he seemed aloof is that he was always thinking about musical issues and conundrums few around him could glimpse much less understand. Parker had a way of bonding with running buddies and attaching himself to mentors, and at least a dozen of these relationships are close-upped unflinchingly. His first marriage gets the respectful attention geniuses' marriages are often denied. And the long section where he ends that marriage and rides the rails to Chicago and ultimately New York are why I couldn't resist the word "novelistic" in my blurb. It's not as if Parker hasn't been clearly delineated throughout. But as the book comes to a climax he gains dimension as a living hero: selfish and in his way vain, but also courageous, hard-working, and fanatically dedicated to his musical vision. Crouch does live in these pages. But Bird lives even more.